The eldest child of Frank Sinatra and his wife, Nancy Barbato Sinatra, Nancy Sinatra was born on June 8, 1940. She is the famous crooner's daughter.
Early on, the family relocated to New Jersey's Hasbrouck Heights.
In an interview with The Guardian, Nancy recounted, We had a lovely little house there, but you could get to the windows from the street—once people knew he lived there, they would come to get a glimpse, which worried my mother because I was a tiny little toddler, and she didn't want anybody stealing me from the front yard."
You would think the young girl's journey into becoming a singing success in her own right would have been easy given that she grew up surrounded by celebrities and luxury and stuck in the constant glare of fame.
However, her debut singles were a flop, and her father's record company, Reprise Records, was on the verge of cutting her off. But after some vocal coaching and a change in appearance, Nancy attained the fame for which she is most remembered.
Nancy studied acting, dance, piano, and singing when her family relocated to California so her father could pursue his acting career in Hollywood. She will be most closely associated with the legendary go-go boots she wore and the song "These Boots Are Made For Walking." In the days before MTV, it was unusual for a song to have a music video to go along with it.
In 2016, Nancy Sinatra spoke to Los Angeles Magazine, "I knew it was a hit the first time [writer-producer] Lee Hazlewood played the bass line on his guitar in my mother's living room. When I heard the track in the studio, I knew then and there it would be a number-one record. I even told Lee to release the track without the vocal! The fact that it has been embraced by generation after generation of little girls is proof of its staying power. I was the lucky one to record it and I think the fashion helped it along. Girls always want a pair of boots."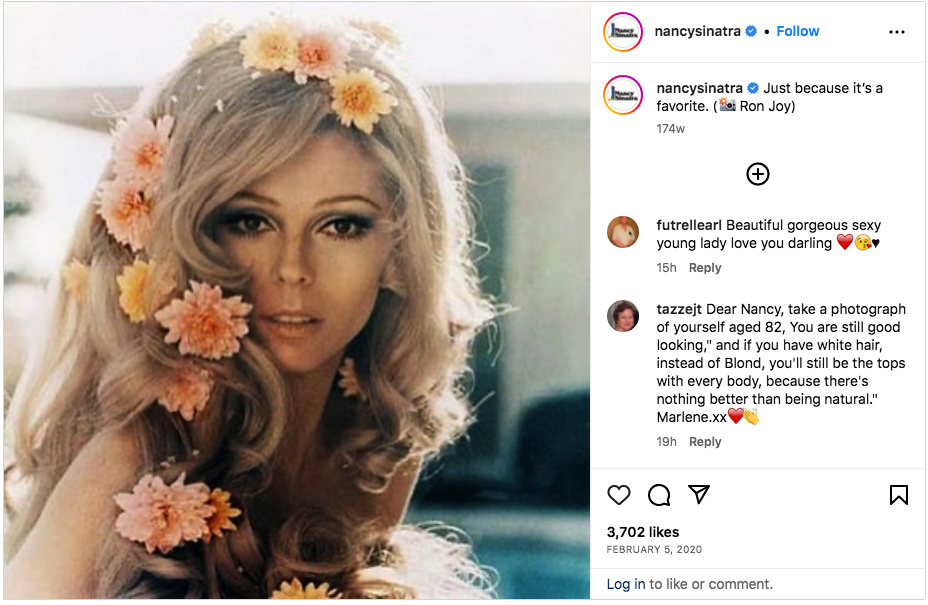 She had married and divorced, dropped out of college after a year, and nearly had her father's record label reject her before the smash that earned her three Grammy nominations.
She adopted the "Carnaby Street" style and, thanks to songwriter Lee Hazlewood, who had taught her to sing in a lower register, recorded her most famous song in 1966, which peaked at No. 1 on both the U.S. Billboard Hot 100 and the U.K. Singles Chart.
She had more songs after her initial success, such as "How Does That Grab You, Darlin'?" and "Sugar Town."
Even on the big screen, she played in leading roles opposite Peter Fonda in The Wild Angels from 1966 and Elvis Presley in Speedway from 1968.
To raise her children from her second marriage to Hugh Lambert, the fashion queen withdrew from the spotlight in the 1970s.
Two books on her father were published by her, and she received a star on the Hollywood Walk of Fame. She doesn't remember what happened to her famous go-go boots, but she thinks she gave them away at some point.
Sinatra wed Tommy Sands, a teenage singing sensation, in 1960, but the couple soon got divorced. She was prepared for a new marriage in 1970 when Hugh Lambert entered her life. Nancy temporarily left the public eye to raise her two daughters. Sadly, Lambert passed away in 1985 from cancer.
Nancy keeps herself occupied right now and doesn't intend to slow down. She launched Nancy's Bootique in 2020, an online store where customers can purchase CDs, premium goods, and autographed souvenirs.
Nancy also aired a weekly radio show called Nancy for Frank from the time of the pandemic until 2021, during which she discussed her life and her bond with her late father.
Such a stylish legend who continues to inspire us now.
Please share with all the Sinatra fans you know.