Goldie Hawn, a Hollywood icon, is a must-watch personality who not only appears ageless and shares an adorable relationship with her partner Kurt Russell but is also the most enjoyable person in the industry.
Apart from being a mother of three and stepmother to one, Goldie has six grandchildren, and her social media depicts how much this star loves being a caring mother and grandmother.
In a 2007 interview with Woman's Day, Goldie said, "So as long as my emotional state is in a state of devotion, honesty, caring, and loving, then we're fine. I like waking up every day and seeing that he is there and knowing that I have a choice. There is really no reason to marry."
Meanwhile, Kurt told the Daily Mail newspaper in 2018: "Everyone has their marker on what is really important and where you draw the line. For Goldie and me, that core value was this: the kids come first."
As part of the Goldie Hawn Foundation, Goldie puts all children first through her program MindUp, which has been creating better environments for children to thrive in school and life since 2003.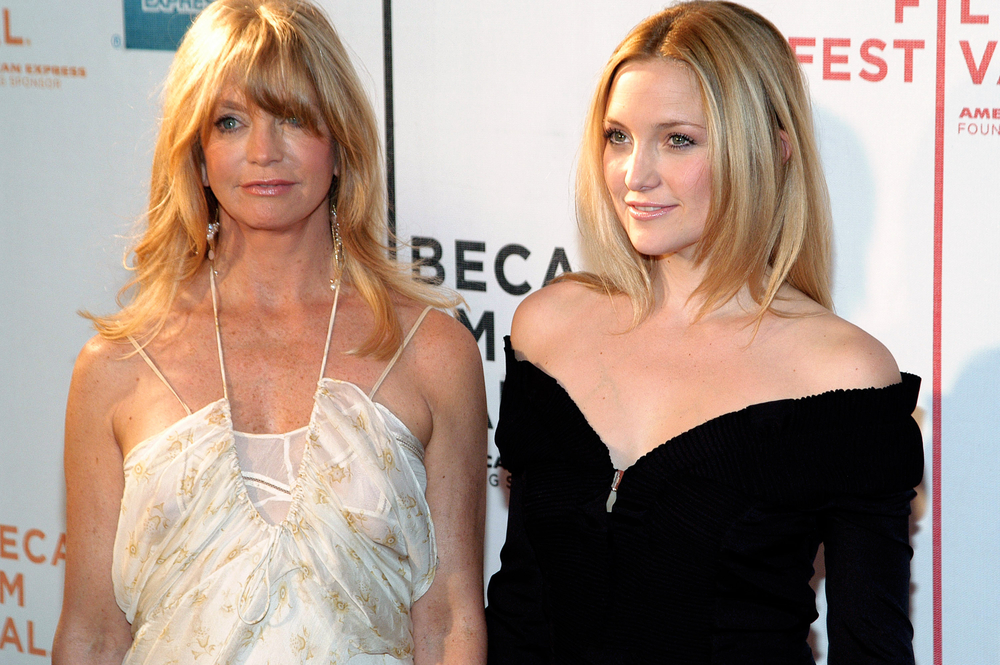 Despite being a famous actress, dancer, and producer, Goldie's true love is her family, especially her daughter Kate Hudson, who is a Hollywood star herself. Goldie had Kate and her older brother Oliver with her second husband Bill Hudson.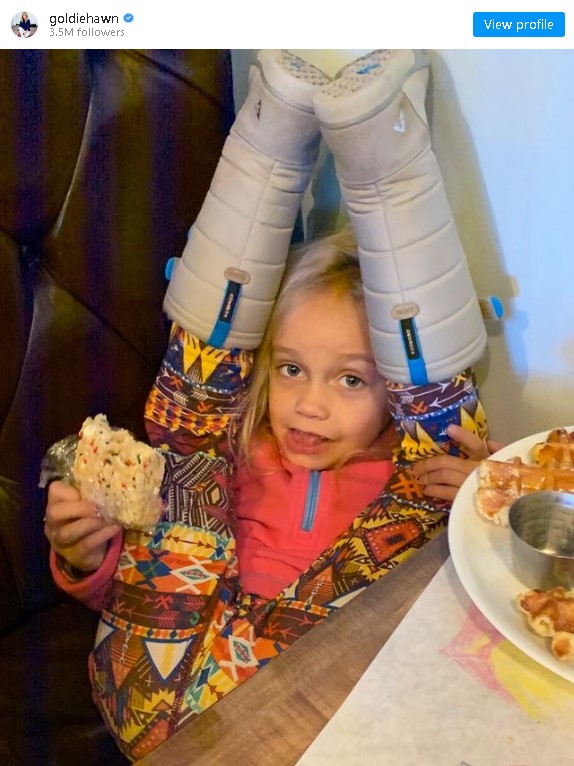 It's hard to believe that Goldie, whom we all remember from classic movies like Overboard, Private Benjamin, and The First Wives Club, and most recently, the Netflix Christmas hit The Christmas Chronicles, where she plays Mrs. Claus, is 74 years old and a grandmother.
Goldie's son Oliver and his wife Errin have given Goldie and Kurt three grandchildren, Wilder Brooks, Bodhi Hawn, and Rio.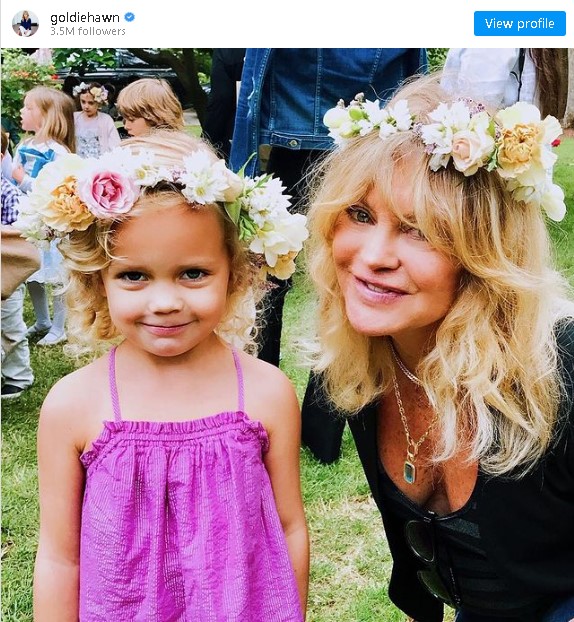 Goldie's love for her family is evident in the pictures she shares on social media, such as the recent fun photo of Rio, who looks strikingly similar to her grandmother. In another post, Goldie mentioned that she couldn't have picked a better date than her granddaughter Rio to attend a MindUp event where singer Barry Manilow was honored.
According to Goldie, being a grandmother is amazing and brings incredible joy. Family is so important to her, and she is proud of her kids and grandchildren.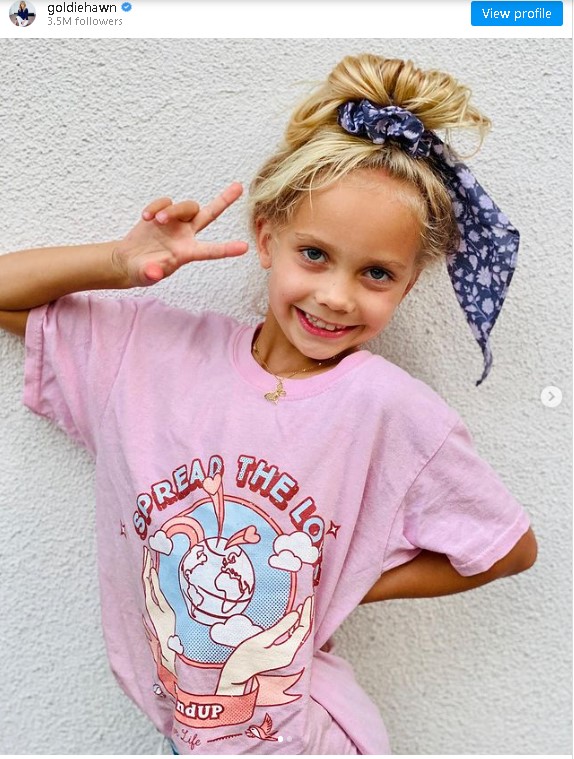 Goldie's daughter Kate Hudson, who has two sons, 15-year-old Ryder Russell and 8-year-old Bingham Hawn Bellamy, is also a devoted mother. In fact, Goldie and Kate recently guest presented the Ellen show and shared some funny stories, including Goldie's hilarious experience during the birth of Kate's daughter, Rani Rose Hudson Fujikawa.
Goldie's love for her family extends beyond her immediate relatives. She has also been actively involved in philanthropic work, especially in the area of children's education and well-being. Through her MindUp program, Goldie has been helping children develop social and emotional skills that are critical to their success in life.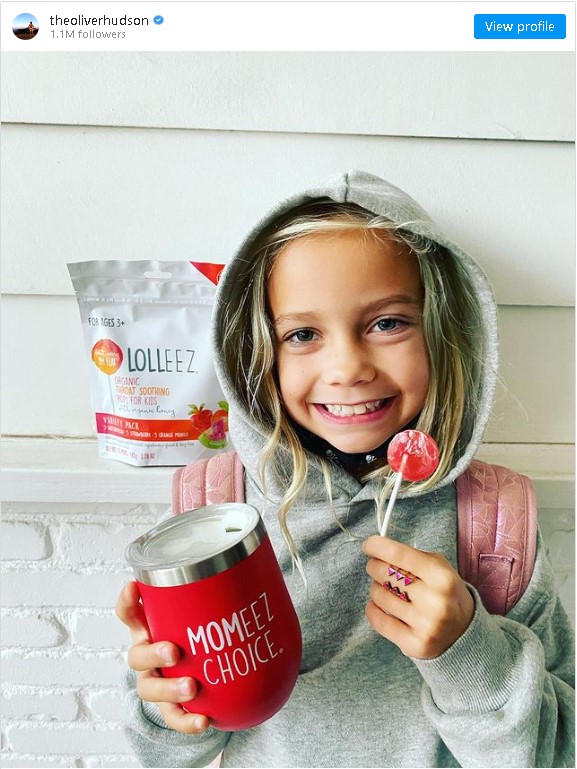 In addition to her philanthropic work, Goldie has also been an advocate for mental health awareness. In a 2019 interview with People, Goldie talked about how meditation and mindfulness have helped her stay positive and centered. She believes that these practices can benefit anyone, regardless of their age or background.
Goldie's career has spanned over five decades, and she has won numerous awards, including an Academy Award for Best Supporting Actress for her role in the 1969 film Cactus Flower. Despite her success and fame, Goldie has always remained grounded and down-to-earth. She is known for her infectious smile and bubbly personality, which have made her a beloved figure in Hollywood and beyond.
As she approaches her 75th birthday, Goldie shows no signs of slowing down. She continues to be an inspiration to millions of people around the world, not only for her talent and beauty but also for her love and dedication to her family and her tireless efforts to make the world a better place.