Lindsay Lohan was arguably one of the most well-known and well-loved child stars at one point.
She went through a difficult period after that, spending time in rehab due to her substance misuse troubles.However, the actress has recently experienced success and made it known that she was married and expecting her first kid.
It was discovered today that she actually gave birth to her son. To find out more, keep reading!
Lindsay Lohan made her pregnancy public by uploading a photo of a onesie that said "coming soon" in March of this year. At the moment, she posted on her Instagram, "We are blessed and excited."
Both other celebs and fans gushed over the wonderful news. It was hailed as "wonderful news" by her Mean Girls co-star Amanda Seyfried in the post-pregnancy comments section.
The longtime friend of Lohan's, Paris Hilton, added, "Congratulations love! I'm ecstatic for you. The Mommy Club is happy to have you.
Anyone who has followed Lohan's career would not have been surprised by the pregnancy. The actress stated in a November 2022 interview, "I want to have kids," and that she and her husband had "talked" about whether or not they would stay in Dubai after they had children.
"It's so safe there, and the schools are great. It's so detached from everything that I'm used to. … It's nice to have a separate world that's my own."
In February 2020, Lohan first revealed her connection with Shammas to the public. The actress was proposed to by Shammas, a financier in Dubai, in November 2021, and she said yes. She used adorable pictures to share the news of their engagement while flaunting her stunning diamond.
"My love. My life. My family. My future. @bader.shammas #love," she wrote in her post.
In April 2022, the pair exchanged vows in secrecy. The actress did not make the couple's union public until July of the same year. Businessman Egor Tarabasov and actress Lindsay Lohan were previously engaged in 2016.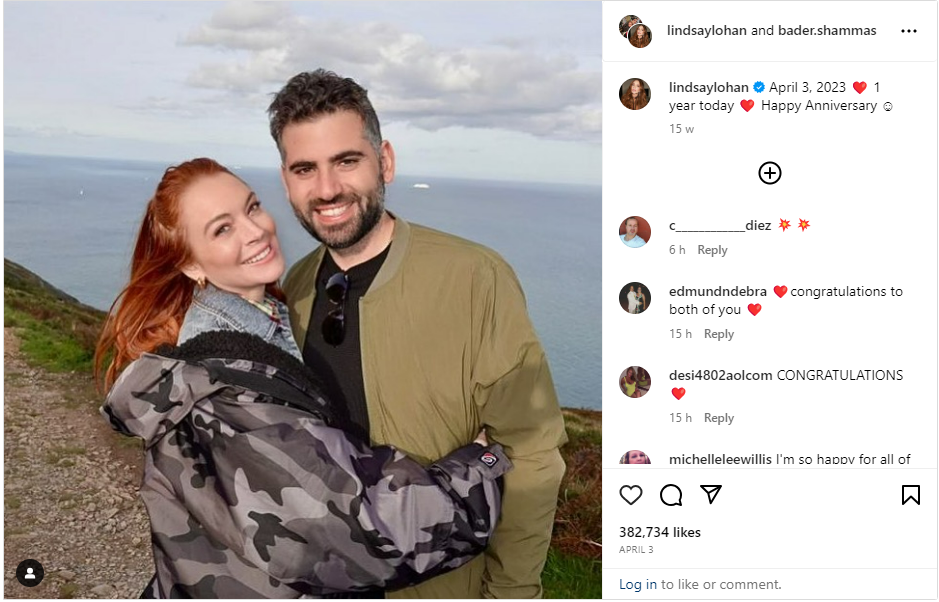 The new mother, however, has now given birth to her son through Shammas. The couple has named their son Luai, according to a Lohan spokeswoman, who also revealed that she gave birth to a boy. Arabic for "shield" or "protector" is the name.
In a statement issued on Monday, her representative claimed that "the family is over the moon in love." The infant was born in Dubai, where the couple is currently residing, however it is unknown when exactly he was born.
Such wonderful news! For Lindsay Lohan and Bader Shammas to become parents, we are ecstatic. Share this with others so they can too rejoice in this good news.