In Stanley Kubrick's Full Metal Jacket, Vincent D'Onofrio played the legendary part of the pudgy, inexperienced Marine recruit.
However, his popularity declined after it.
The 64-year-old ruggedly attractive actor claimed that the part demanded a significant physical change, which made him unattractive to the girls who had earlier flocked to him for his curly, black hair and athletic build.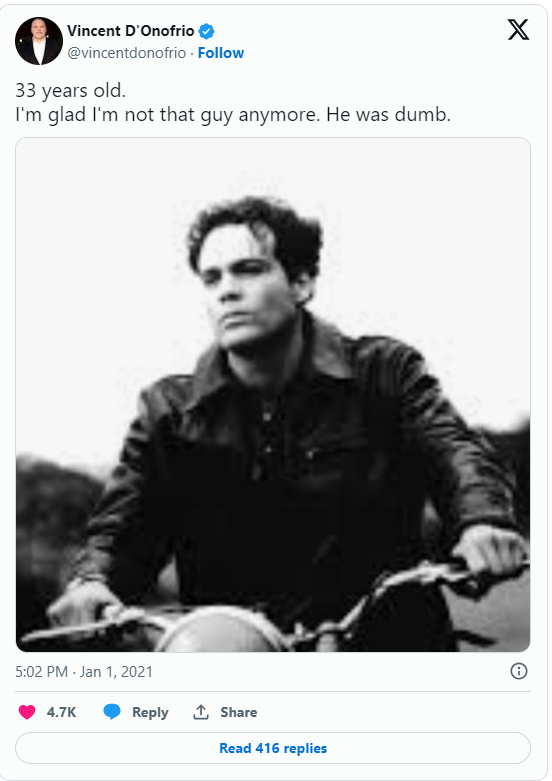 Both extensive and varied, Vincent D'Onofrio's resume is impressive. He always gives every role his all, and he can always blend in with the character to the point that you lose track of who he is. The actor, who was born in Brooklyn, began his career as a bodyguard for Yul Brynner and Robert Plant while also working many side gigs to support his acting aspirations.
He initially supported himself by working as a nightclub bouncer, flower deliveryman, drapery hanger, and cab driver. D'Onofrio's buddy, actor Matthew Modine, encouraged him to submit an audition video to Stanley Kubrick, who was then casting for his upcoming major success, after he had acted in a few low-budget films.
A 6-foot-3 man The character of the chubby, stupid Leonard went to D'Onofrio, who was tremendously fit, but it had some requirements. Working with Kubrick was a life-changing event for D'Onofrio since it gave him the chance to really inhabit his role and hone his acting chops in a demanding and difficult setting.
The father of three, now 64, had to shave his gorgeous full head of hair, and gain 70 to 80 pounds, which to this date is the most weight gained by any actor for a role.
"[Kubrick] asked me early on would I be all right with gaining this weight and I went over there and gained about 30 pounds, and I remember him seeing it and saying that I only look like I could kick everybody's a**. He thought some more weight would be needed." Speaking of the role he played when he was 24, D'Onofrio continued, "I think it went up to 80 pounds…from 200 to 280."
Gaining the weight was not an easy task for D'Onofrio, who was then faced with the gruelling demands of the movie's boot-camp scenes.
Obstacle courses would have been easy with his athletic build but it was particularly taxing for someone weighing in at 280 pounds.
D'Onofrio's impressive portrayal of the chubby, dumb and mentally disturbed Leonard earned him a lot of praise from critics but he also had to deal with fans who mistook the actor for the character.
"People treat you differently when you're that size you gotta remember my head was shaved so it was like a completely different persona from me being this long lanky actor to a big burly guy with a bald head…it was a very strange life change." The Broken Horses star continued, "It changed my life. Women didn't look at me, most of the time I was looking at their backs as they were running away. People used to say things to me twice, because they thought I was stupid."
The Magnificent Seven actor's body had returned to its original size and he had grown a full head of hair by the following year. The author of the 2023 book "Pigs Can't Look Up," a New York-born director, producer, screenwriter, and actor, attributes his long career to Kubrick.
"Stanley made my career, there's no question to that I've done over 50 films, because of him. Because of that part." D'Onofrio was referring to his numerous roles in both film and TV, most notably as a series regular on Law & Order: Criminal Intent (2001 to 2011) and Marvel's Daredevil (2015 to 2018). His films include starring roles in Dying Young, The Break-Up and Jurassic World.
The separation of D'Onofrio's parents when he was a little boy had a significant impact on his life. George Meyer, a well-known American producer and writer, and his mother got remarried. The family consequently relocated to the Hialeah, Florida region. D'Onofrio was a quiet child who frequently withdrew to his room to be alone with his thoughts.
He became interested in magic and the practise of sleight of hand while living in Florida, and he learned these talents from Cuban artists who ran a small magic shop.
Actress Greta Scacchi and Vincent D'Onofrio had a romantic relationship in the early 1990s. During this time, they shared the screen in numerous films like The Player and Fires Within.Leila George, their daughter from their relationship, was born sometime between 1991 and 1992, and she has subsequently followed a career in acting.
Vincent D'Onofrio married Dutch model Carin van der Donk in 1997. They had their first kid together in 1999. But in the early 2000s, their partnership ran into problems, and they split up. They later made amends, and in 2008 they welcomed a second son.
D'Onofrio filed for divorce from Carin van der Donk in Manhattan Supreme Court at June 2023, thus ending their 26-year union. In the upcoming comedy Dumb Money and the 2021 movie The Unforgivable, D'Onofrio will be paired with Sandra Bullock.
Vincent D'Onofrio was fantastic in Full Metal Jacket and his mental decline as Leonard is incredibly believable!
He looks totally different now, as to be expected many decades later, but we still enjoy his performances!
What do you think about his portrayal of the dumb, fat Leonard?