In a rather rare moment for actor Matthew Perry, he shared a photo that has Friends fans feeling very nostalgic. If you weren't already, Matthew Perry is the actor who played the beloved Chandler Bing in the ultra-popular sitcom that spans generations.
Via Instagram in June, Perry took to his account to share a photo of himself and four of his oldest friends in Vegas. The photo had people thinking about the multi-episode story plot of Friends which showed Chandler and Monica nearly tying the knot before their plan to elope in Vegas was foiled by Ross and Rachel.
"Vegas with old friends this weekend. This photo was taken minutes before we went downstairs and lost every dime any of us have ever earned," Perry captioned his photo. While Lady Luck was not on their side on this particular day, his follower couldn't be more excited to see Perry doing well.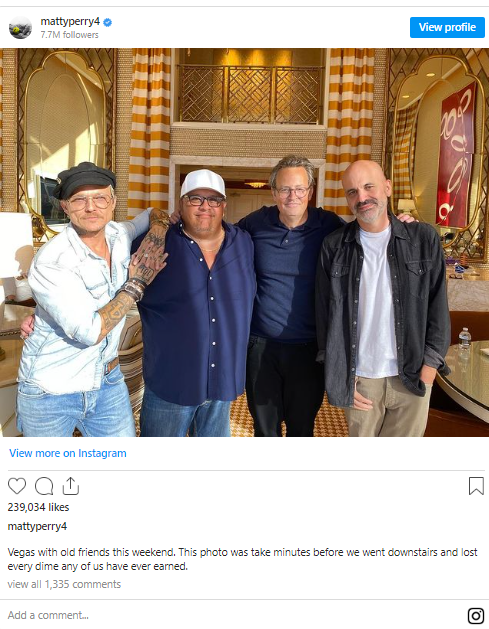 "Last time you were there you and Monica nearly got married," one commenter joked. "I'm glad to see you're doing well," another commenter added.
And most notably, one of his Friends co-stars, Jennifer Aniston liked the photos. Shortly before sharing this photo on Instagram, Perry went on to make another big announcement, fans will be able to read his memoir in just a few short months!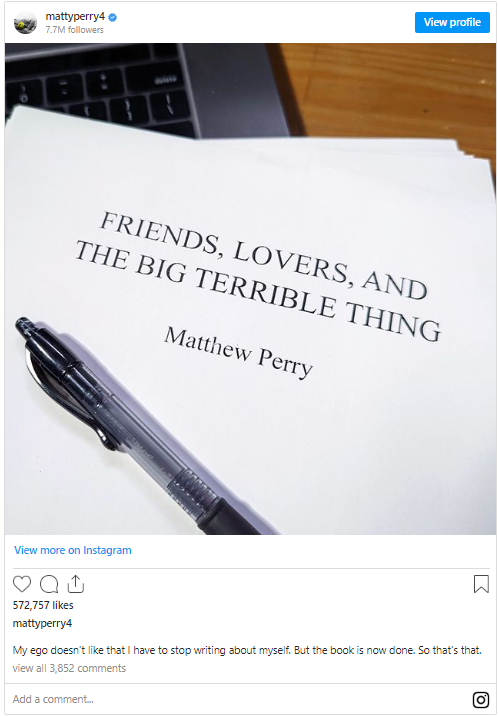 Titled, Friends, Lovers, and the Big Terrible Thing, Perry's book is set to hit the stands on November 1, 2022. According to the synopsis of the book, which you can now pre-order on Amazon, Perry's memoir dives into it all.
From his addiction to his time filming Friends, Perry leaves it all on the table in a very "candid, funny, and revelatory" way. But most importantly, it offers those who read it a "powerful message of hope and persistence."
While Perry's battle with substance abuse is not new news, this will be one of the first times his fans get to hear about his harrowing journey in his own words. As a rather private person, Perry has lived a big life.
As Perry previously revealed, his drug problem began in 1997 when he was prescribed Vicodin following a jet ski accident. In a past interview, Perry admitted that "from an outsider's perspective, it would seem like I had it all. It was actually a very lonely time for me because I was suffering from alcoholism."
He continued that because of his addictions "I don't remember three years of [Friends.] I was a little out of it at the time — somewhere between seasons three and six." And while all he ever wanted was success, and the fame and fortune that inevitably came with it, Perry admits he only rode that wave of accomplishment for a short time.
"For me, it lasted about eight months, this feeling of 'I've made it, I'm thrilled, there's no problem in the world.' And then you realize that it doesn't accomplish anything, it's certainly not filling any holes in your life," he admitted.
"It wasn't my intention to have a problem with [drugs]. But from the start, I liked how it made me feel and I wanted to get more," he said of being on Vicodin for the first time.
And while the height of his struggles came while he was filming Friends, the world had no idea, but his co-stars did and in interviews of their own, they feared for Perry. Sadly there was little they could do for him.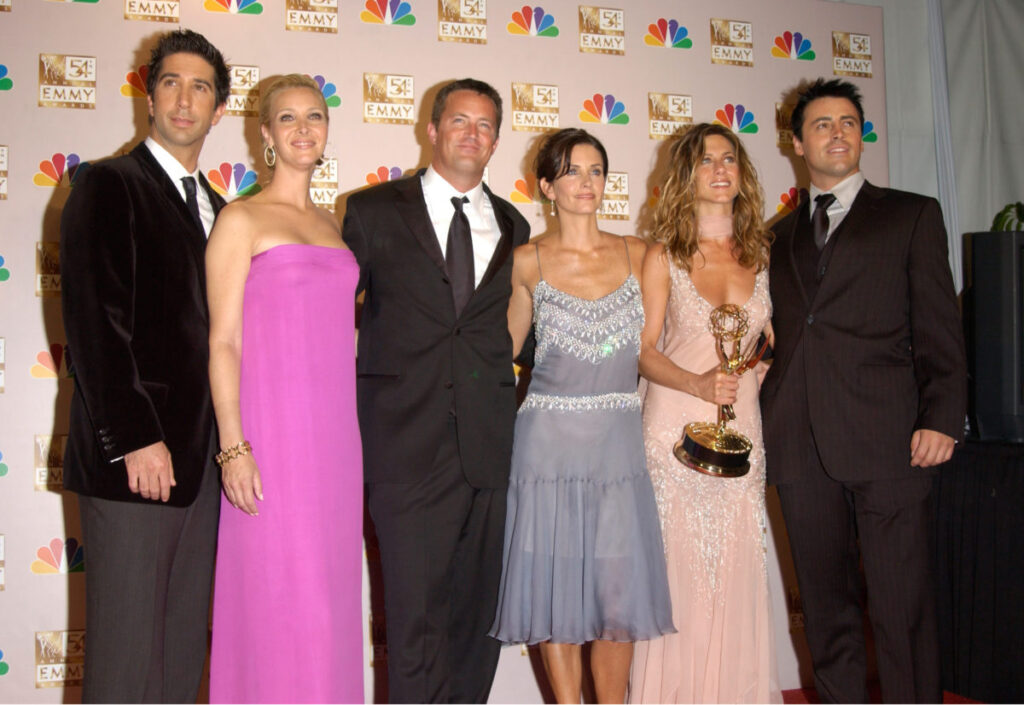 "I tried to talk to him," Matt LeBlanc, who played Joey Tribbiani, told People years later. "There wasn't a response. It's such a personal struggle; they need to bottom out on their own."
"It was terrifying… watching someone you care about in so much pain," the show's creator Marta Kauffman added.
It would eventually take decades before Perry got clean and stayed that way. Now, his Malibu ho
"I didn't get sober because I felt like it," he once told The New York Times. "I got sober because I was worried I was going to die the next day."
me is known as Perry House, and it acts as a safe space for men seeking to get and stay clean.
And while he's been clean, Perry still works every single day to stay that way, "You can't have a drug problem for 30 years and expect to solve it in 28 days."
Wow.