A teenager was left with painful blisters – including one as large as an orange – after brushing past 'Britain's most dangerous plant'.
Ross McPherson even struggled to dress himself and fainted from pain when the blisters had to be removed without anaesthesia.
The 16-year-old believes he brushed past giant hogweed while cycling near his home in Dunbar, East Lothian, Scotland.
He said: "The skin was swollen around my hand, it felt warm and it hurt. It impacted daily life quite a lot: I couldn't put clothes over it and, because it was over my joints, I couldn't really use my left hand.'
The biggest blister was enormous said Ross.
'The largest one was seven centimetres by eight centimetres. It was like an orange.
'It was heavy; I could feel the weight of it on my hand continuously.
'It felt like having a giant balloon on my hand that was susceptible to pain at any point in the day.
Getting changed was a challenge, he said.
'I could barely get my coat off, I could barely put jumpers or t-shirts on; it was unusable basically – I couldn't do anything with it.
'I had smaller blisters over the knuckles, so moving my fingers was also excruciating, so I didn't really do that either.'
Ross initially went to see his GP, who said it was contact dermatitis, a type of eczema triggered by contact with something external that causes irritation.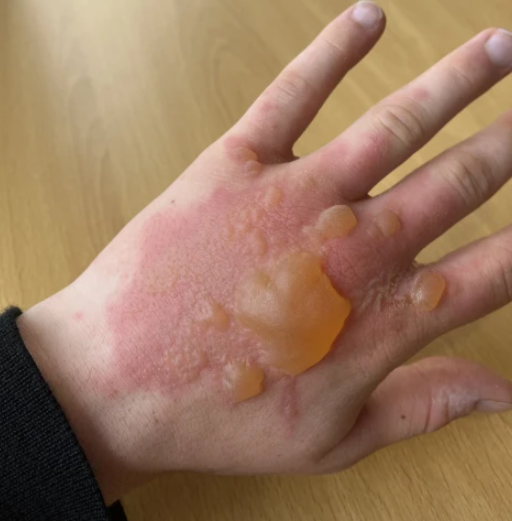 But the blisters got so bad his family ended up taking him to A&E at Edinburgh's Royal Infirmary.
Doctors at the hospital explained he was suffering from second and third-degree burns.
The person we saw thought originally that we would have to go to the burns unit in Livingston to get it [treated],' Ross said.
'But they told her just to do it in the Royal Infirmary, so she cut like a line in it and drained the fluid.
'Some of it was jelly so she opened it up and pulled the jelly out, and she cut around all the dead and blistered skin, and pulled it off – there was quite a lot of it.
'You're not on anaesthetic because they need to make sure the nerves aren't damaged and that you're feeling it – because in the more serious cases that can happen.
'It was absolute hell. It hurt so much. I fainted during it, it was that bad.'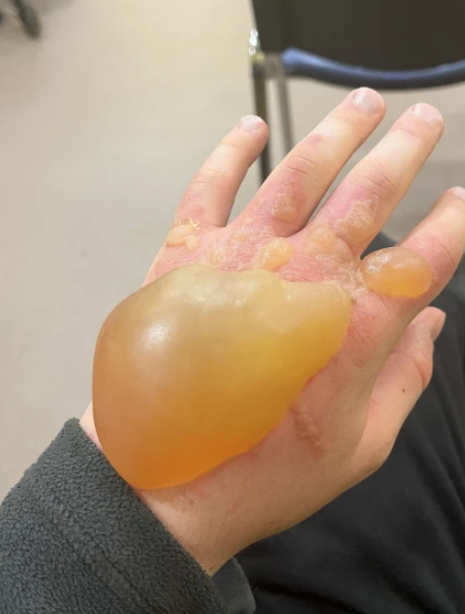 Please SHARE so people know to be aware of this plant!