The song "Try That in a Small Town" by country musician Jason Aldean has drawn a lot of criticism for being 'racist' and 'pro-lynching.' After his song was taken off the radio, the artist at last addressed the criticism levelled at him. Read on to discover more.
Due to claims that the song was racist and "pro-lynching," CMT removed the music video for Jason Aldean's song "Try That in a Small Town."
The musician is currently defending himself against all of the charges brought against him.
"In the past 24 hours I have been accused of releasing a pro-lynching song (a song that has been out since May) and was subject to the comparison that I (direct quote) was not too pleased with the nationwide BLM protests," the country singer said on social media.
"These references are not only meritless, but dangerous," he further added.
According to sources, CMT took the music video off the air after three days of airtime. Although they made the decision to stop airing it, they have chosen not to discuss the reasons why.
Aldean performed the contentious song in front of the Maury County Courthouse in Columbia, Tennessee, which had an American flag draped over the entryway in the music video in question.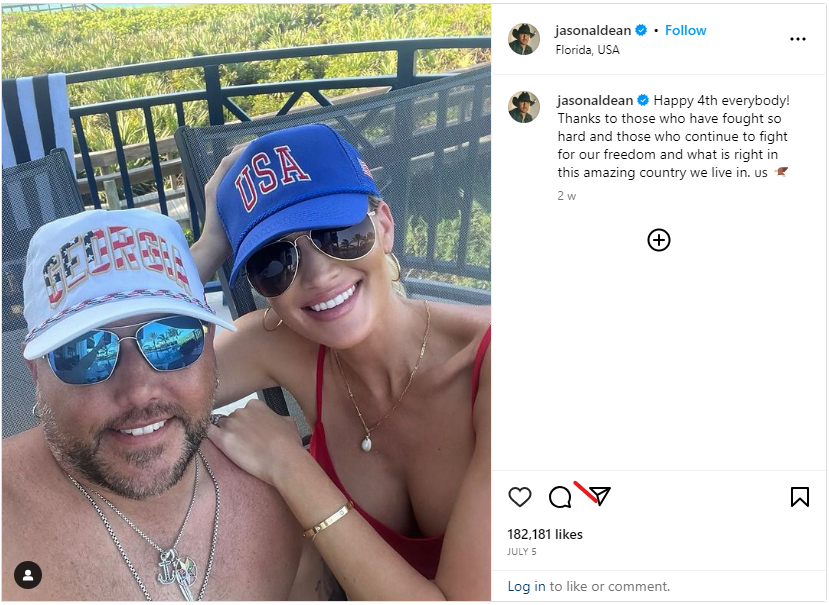 After the video was made public last week, astute observers noted that the scene was historically significant because it was the same place where an 18-year-old African-American man called Henry Choate was lynched in the 1920s.
Although it is not obvious exactly where the video is from, it depicts protesters battling police officers while burning American flags.
"Cuss out a cop, spit in his face / Stomp on the flag and light it up / Yeah, ya think you're tough / Well, try that in a small town / See how far ya make it down the road," Aldean says in the song's lyrics.
"Around here, we take care of our own / You cross that line, it won't take long / For you to find out, I recommend you don't," the lyrics say.
Variety said the song was "the most contemptible country song of the decade," while people on social media outrightly called the artist "a racist who writes barely concealed lynching songs" and a "violent bigot."
Kelley Lovelace, Kurt Allison, Neil Thrasher, and Tully Kennedy all contributed to the song's composition. The artist fiercely disputes that he intended to "point to" race, even though the setting of the music video has historical importance in relation to the lynching of African Americans in the United States.
"There is not a single lyric in the song that references race or points to it- and there isn't a single video clip that isn't real news footage -and while I can try and respect others to have their own interpretation of a song with music- this one goes too far," he said.
The singer said that his song "Try That in a Small Town" merely refers to the "feeling of a community" that he felt growing up. "We took care of our neighbors, regardless of differences of background or belief," he said.
"My political views have never been something I've hidden from, and I know that a lot of us in this country don't agree on how we get back to a sense of normalcy where we go at least a day without a headline that keeps us up at night," Aldean clarified.
"But the desire for it to — that's what this song is about," he added.
The singer has faced criticism in the past as well. After his wife Brittany Aldean made remarks that were transphobic in 2021, the musician was fired by his public relations company. After posting an Instagram video thanking her parents for "not changing [her] gender" during her "tomboy phase" as a child, Brittany sparked uproar.
"Lmao!! I'm glad they didn't too, cause you and I wouldn't have worked out," Jason commented on his wife's video.
After his wife received backlash for her comments, he later backed her, calling the actions of such parents "one of the worst evils."
All of this criticism is being levelled against Jason Aldean during his July 14-starting Highway Desperado tour. The musician was hospitalised for heatstroke on the second day of his tour and had to reschedule his appearance.
The concert venue sent out a statement which read, "Yesterday's Jason Aldean show will be rescheduled for a future date. We appreciate your patience as we work on rescheduling a new date, as well as the outpouring of well wishes for Jason."
What do you think about Jason Aldean's song? Let us know in the comments.
Share this with others son they can also let their opinions be known about this situation.