Britney Spears addresses her fans in an unusual Instagram video.
In a video shared with her large social media following, Spears talks about being gifted a few dresses in a weird accent before suggesting she may shut down her Instagram account completely. She then urged her fans not to call 911 if that's how she chooses to proceed.
The video comes after several Spears fans called 911 to request a check on Britney Spears' health. When police arrived at her house, they discovered she was unharmed and fine.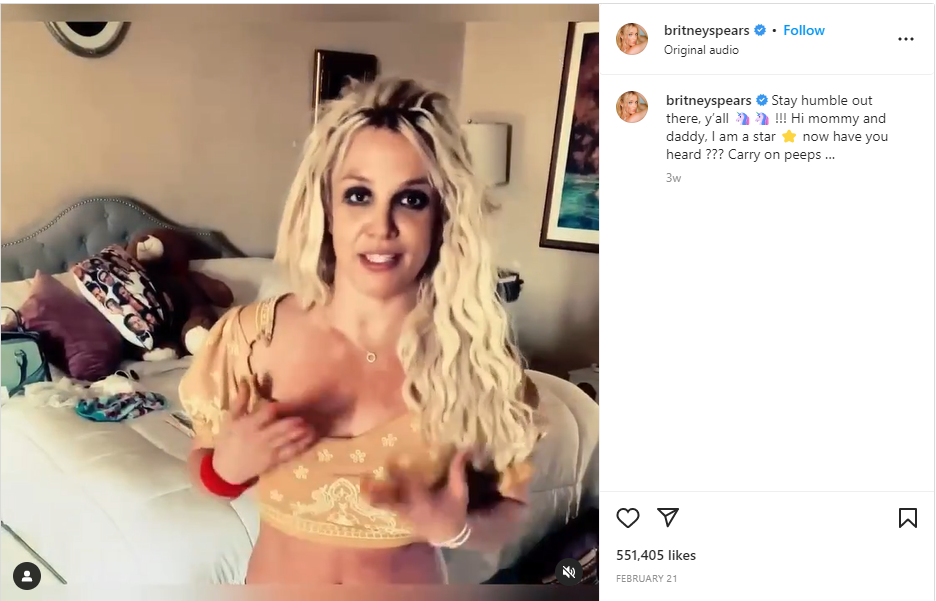 The singer was upset by the situation.
Spears has had to deal with the public's perception of her for the past 15 years. Until 2021, her father, who was her conservator at the time, allegedly manipulated her perception. Fans appear to have gone too far now that she is no longer under conservatorship, using her social media posts against her.
Britney Spears' mental health is said to be deteriorating, and some of her closest friends and family are worried about her future. In fact, they became so concerned that they planned to stage an intervention to get her help – an intervention that was abruptly canceled before it could begin.
According to reports, the intervention was scheduled for Tuesday and would be attended by her manager, her husband Sam Asghari, a professional interventionist, and several doctors. Her manager rented a house in Los Angeles for several months, where she would be rehabilitated and treated.
That plan backfired when Spears became aware of the intervention, causing her support system to abandon the idea. While the intervention did not take place, she did meet with a doctor on Wednesday, which reportedly 'went well,' though no one has confirmed which doctor she saw.
Several sources close to Britney Spears have expressed concern in recent days that her recent behavior will worsen. One source stated that she is afraid she will die if she does not get help, while another stated that she has become 'increasingly combative.'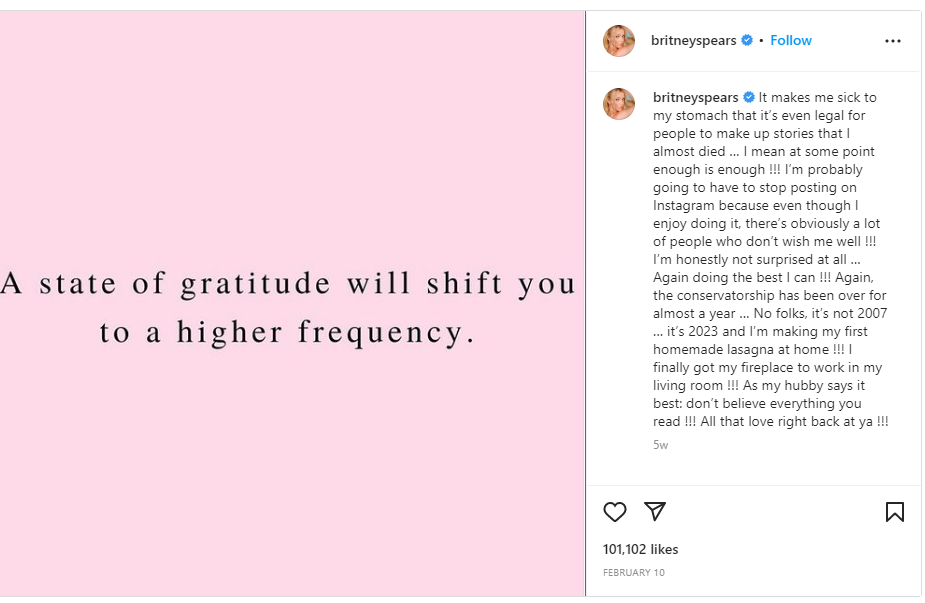 "Britney has been acting increasingly erratically, and those around her have grown more concerned. She is often up all night, sleeps during [the] day, and has a lot of anger," said another source. It is also being reported that she's taking medication that 'hypes her up' and is avoiding the meds that 'stabilize her.'
Despite her alleged recent behavior, her husband Sam Asghari is staying by Britney's side and 'is being as supportive as possible,' another source revealed. The news comes just a few weeks after fans called the police and asked them to perform a welfare check on the 41-year-old singer – which she addressed on Twitter.
"I love and adore my fans, but this time things went a little too far, and my privacy was invaded," she wrote. While the police did show up at her house, they quickly realized everything was fine and left. "I truly hope the public and my fans, who I care so much about, can respect my privacy moving forward."
On Thursday, Britney Spears took to Instagram to respond to all of the negative media attention she has received this week. She confirmed in the caption that she does not have a'manager' or a'management team,' nor does she have'medical doctors' treating her. She also said she was 'alive and well.'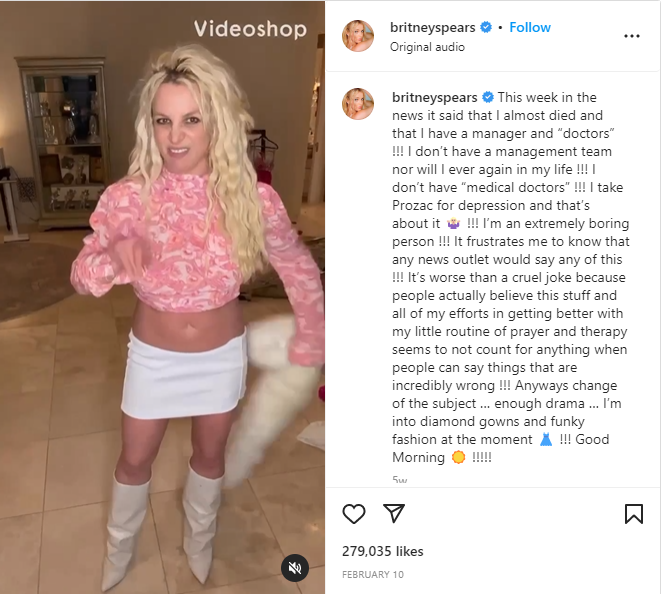 "It frustrates me to know that any outlet would say any of this! It's worse than a cruel joke because people actually believe this stuff, and all of my efforts in getting better with my little routine of prayer and therapy seems to not count for anything when people can say things that are incredibly wrong," she wrote.
Spears' husband, Sam Asghari, also shared a statement with Access Hollywood. "An intervention did not occur. My wife is in full control of her life and will continue to make all decisions involving her care regardless of circumstances. Speculation on her health is inappropriate and should end immediately."
With conflicting reports coming from every direction – including unnamed sources, her husband, and Spears herself – it's becoming clear that no one knows how the singer is doing mentally, physically, emotionally, spiritually, or behaviorally.