A father who lost his son in a vehicle accident has dedicated a specific spot by the side of a lonely road in his honor. Every night in the dark, the man entered this location alone.
A young man lost his life in a terrible vehicle accident in Richmond, California, in 2003. The youngster was Ray Olson's son. Ray was torn by what had happened and wanted to create a sacred space at the location of his son's passing. When Ray discovered that Chevron, a multibillion dollar corporation, owned the property, he assumed that they would forbid him from creating a special place in his son's memory.
Ray built this location on his own initiative without asking the owner's permission.
The man assumed that no one would know about this place and decided to keep it a secret. Every night, Ray returned to the scene of his son's death, tormented by sadness.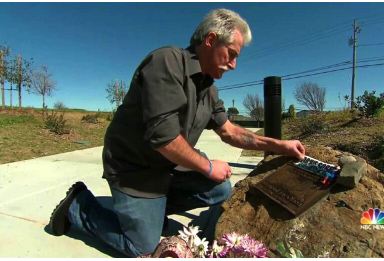 After nearly 13 years of silence, he one night discovered a ticket in the location of his construction informing him that something else will be constructed there. Ray, like his son, cared about that spot since it was the one thing that kept him connected to his memory.
When he first heard the message, he assumed they would destroy the site and take away the only thing that provided him with comfort. But after reading the entire message, he was stunned. He never would have imagined that the business would build a brand-new monument where his son perished 13 years ago.
The business cooperated and created a beautiful memorial with a large inscription in honor of Ray's son. That plaque stated that the memorial was constructed in Ray's son's honor and memory.
Along with this incredible gesture on Ray's behalf, the firm also constructed a seat next to the memorial for those who want to see the spot where Ray's son was prematurely taken by life.
This was Ray's location, according to Chevron representative Joe Lorenz, who told that he no longer needed to hide by going there at night.