Despite initial reports reporting he died on May 25, George Maharis, best known for his role as Buz Murdock on the hit television series Route 66, actually died on May 24 after a 60-year battle with hepatitis.
His sister and brother are still living, but he never wed or had children.
The longtime friend and caretaker of Maharis, Marc Bahan, posted on Facebook: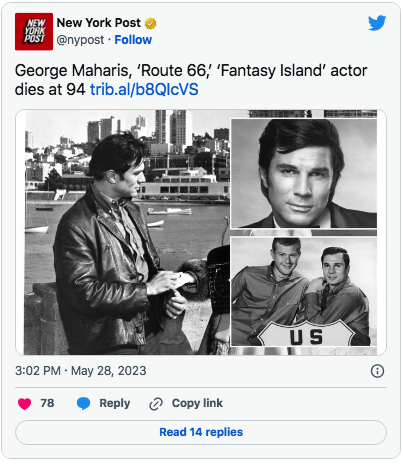 "On May 25, George Maharis died. George is highly recognized for his role as a Route 66 celebrity, stage performances, singing, and art. But most of all, he is a lovely guy who would go out of his way for anyone. My dear buddy, you'll be sorely missed."
Maharis began acting in 1953 and appeared in numerous motion pictures, sitcoms, and television programs over the course of the following seven years, including 1959's Naked City. He was picked to star in Route 66, a Naked City spin-off series, the following year (1960), and he did so for the first three seasons before leaving in 1963.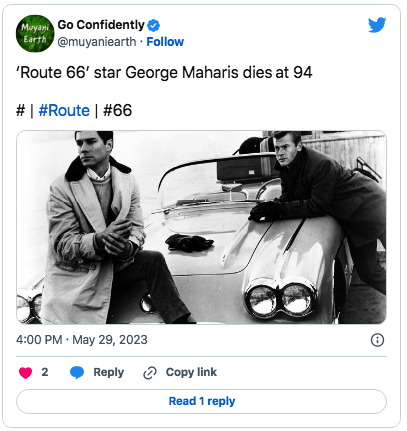 Maharis was a finalist for an Emmy in 1962 for Outstanding Continuing Performance by an Actor in a Leading Role in a Series; The Defenders' E.G. Marshall took home the honor. Around this time, he also started writing and performing some of his most well-known songs.
After acquiring hepatitis in late 1962, he made an effort to return to Route 66, but the demanding schedule and long hours proved to be too much.
Maharis recounted the physician's admonition in a 2007 interview: "If you don't get out now, you're either going to be dead, or you're going to have permanent liver damage."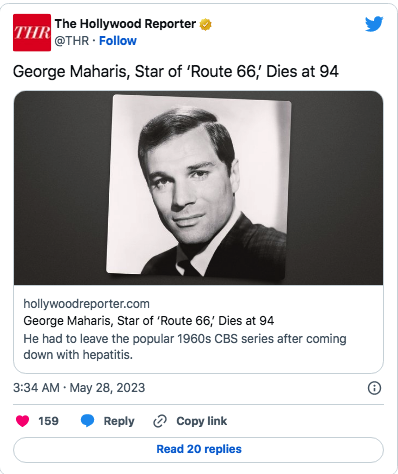 Maharis had to wait almost two years for his physique to handle the strain before returning to the big screen in 1964 with Quick Before It Melts. Over the following three decades, he made numerous appearances in movies, TV shows, and sitcoms. His final role was Mike Wallace in Doppelganger (1993), which marked the end of his career.
Among his other well-known works are Sylvia (1965), A Covenant with Death (1967), The Happening (1967), The Desperados (1969), The Most Deadly Game (1970–1971), and Fantasy Island (1979–1982). Teach Me Tonight, After the Lights Go Down Low, and They Knew About You are a few of his well-known tunes.
It's possible that younger people are unaware of George Maharis' impact on the 1960s. We're referring to a character whose appearance in one of the most well-liked early 1960s shows served as the inspiration for the 1962 song "Teach Me Tonight," which reached its highest point on the Billboard charts at No. 25. Everywhere, his voice could be heard.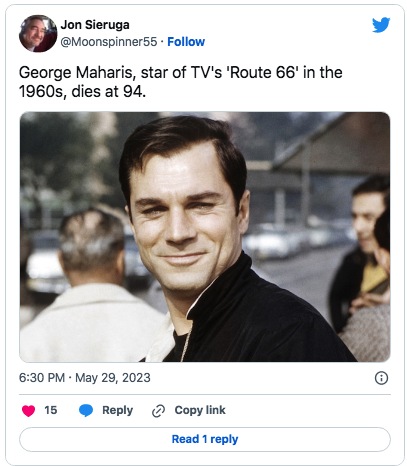 I had a huge crush on George when I was a youngster and he was on Route 66. I read every magazine article about him. I recently acquired the entire first season of Route 66 on VHS. I might get it made into a DVD. I still have one of his recordings, said a fan who backed the actor/singer throughout his career.
"Who wasn't smitten by George? He was one of those famous mid-century manly men I wanted to meet when I grew up, and I knew that when I was a youngster. I've always heard that he treated his fans well. I would have loved to have met him. I hope he enjoyed his many years," a follower commented on Facebook.